THE DRUM AWARDS
B2B
GfK Rebrand:
Infinite flexibility.
Inspiring creativity.
The new brand identity for consumer data giant, GfK, injects some much needed energy into the business landscape.
The design system is driven by dynamic moving geometry that gives the 85 year old company a contemporary tech edge that supports the brand repositioning.
A controlled injection of colour keeps the brand fresh, playing against the typical corporate tropes of the B2B category.
GfK'S OWN BRAND PHOTOGRAPHY AND FOOTAGE WORKS IN SYNC WITH THE COLOUR SYSTEM, BRINGING UNITY TO COMPANY COMMUNICATIONS.
STRATEGY:

WHERE FLEXIBILITY
MEETS CONTROL

WHERE CREATIVITY
MEETS CONSISTENCY

WHERE SIMPLICITY
MEETS AUTOMATION
THE GfK ORANGE SQUARE LOGO IS THE FOUNDATION THE BRAND, WITH DECADES OF EQUITY.

THE NEW SYSTEM REALISES THIS SIMPLE FORM AS A DYNAMIC SET OF MOVING GEOMETRY SERVING A VARIETY OF PURPOSES:

AS A WINDOW
AS A CONTAINER
AS AN OVERLAY
AS A GRAPHIC
Varying weights of typography bring texture and hierarchy into the brand design for all users – designers and non-designers.
Where consistency meets flexibility: Content comes to life across templated brand formats, fast.
​
An injection of controlled highlight colour brings energy to the B2B category.
THE BRAND SYSTEM GIVES THE GfK TEAM THE FLEXIBILITY AND TOOLS TO TURN THE VOLUME UP, OR DOWN, DEPENDING ON THEIR NEEDS.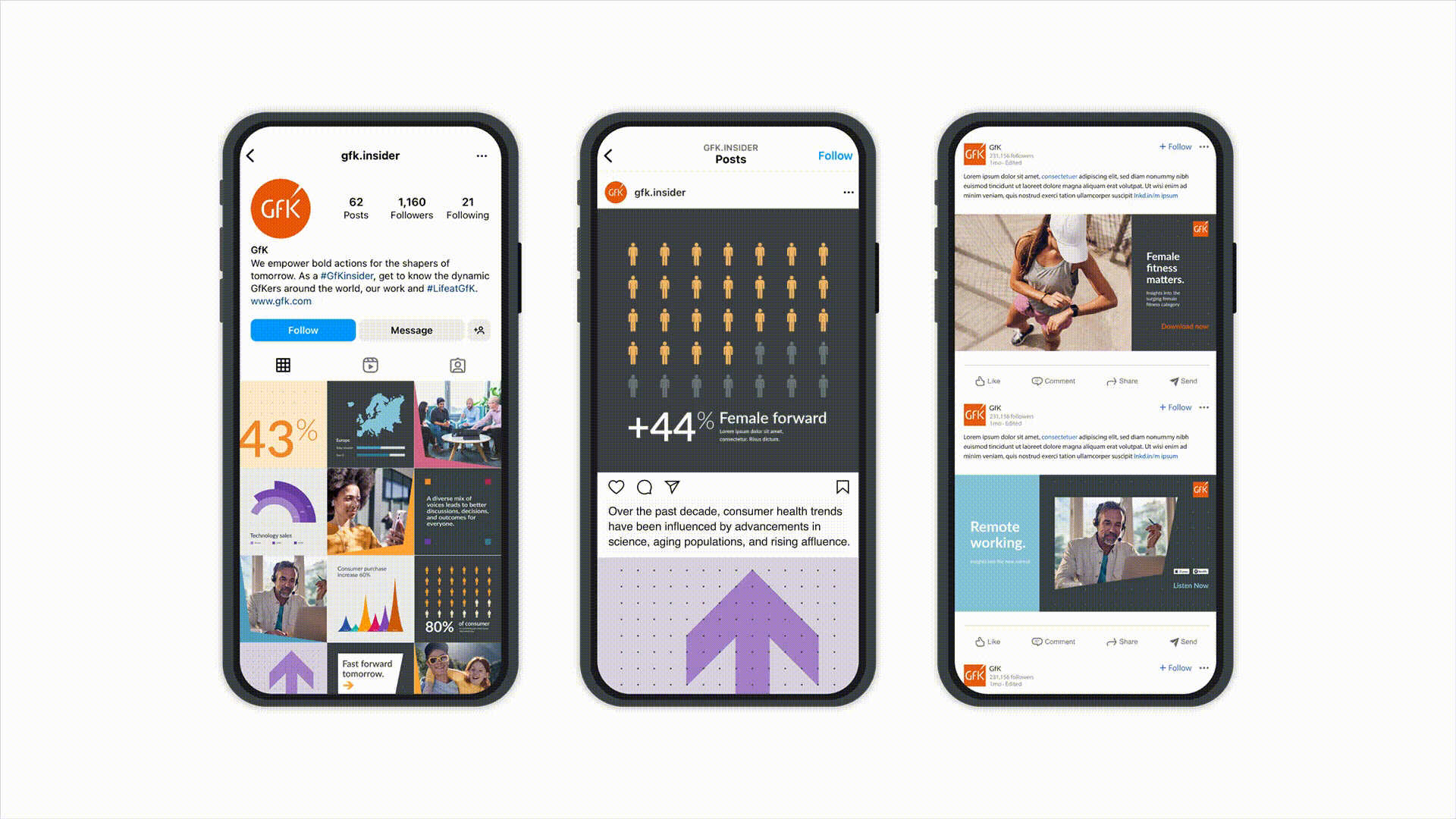 Social media templates enable teams to create and publish content in sync with the business landscape - putting the GfK brand in the centre of the conversation.
A comprehensive brand portal gives users and approvers everything they need, wherever they are, without the version control issues of a brand PDF document.
Consistent data viz, icons and infographics can be developed using the system's own 'How to" guides in the brand portal.
DYNAMIC PLUG & PLAY TEMPLATES FOR VIDEO PRODUCTION, SO ALL AGENCY PARTNERS ACROSS THE GLOBE CAN CREATE ON-BRAND CONTENT, FAST.
Transitions, overlay graphics and titles design elements are pre-built into 20+ video templates that encourage creativity across the global teams.
Play the complete video guidelines template reel above.
Global industry and customer events are a showcase for the brand.
Office installations bring the brand closer to employees and clients.
ONE INTELLIGENT SYSTEM, DESIGNED WITH DIFFERENT USERS AND AUDIENCES IN MIND – INFINITE FLEXIBILITY & INSPIRED CREATIVITY.
​
ⓒ2022 / Semi-famous Studio Ltd